Please read the following document - click on the link below.
Remote Learning Provision:Information for Parents
This outlines in detail everything you need to know about supporting your child with remote learning at home, whether they are an individual child self-isolating or because a class/year group bubble has been closed.
Google Classroom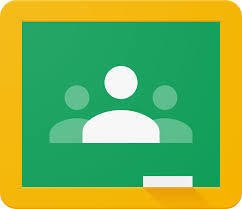 Pupils can access their home learning in Google Classroom – a digital learning platform created by Google. Google Classroom is a virtual classroom that provides a safe way for teachers to connect, share content, teach lessons and participate in discussions. In the event of a year group bubble being closed and pupils being sent home, remote learning resources, pre-recorded videos will be accessible through Google Classroom. This will ensure that children are given the opportunity to continue learning remotely, at home. All learning will be set by school staff through the platform and pupils can complete their learning and submit it online. Teaching slides are scheduled for 7:00am on a Monday Morning. If you need to know their login details please email Mrs Sale at nsale@elmparkschool.co.uk. We understand that parents and carers may be concerned about the amount of screen time children are being exposed to already. Assignments can be completed on paper and then a photo of the learning can be submitted on Google Classroom.
If you are using the Google Classroom app on IOS or Android you will also need to download Google Docs/Pages/Slides for full functionality to edit and create work. These can all be downloaded from the Apple or Android App Store.
Please find below video guides for Google Classroom. This is a work in progress as we will be adding more videos. If you need any help please contact Mrs Sale at nsale@elmparkschool.co.uk
How to Guides - Documents
| Name | |
| --- | --- |
| How to login to Google Classroom using a computer for the first time.pdf | Download |
| Cum să vă conectați la Google Classroom folosind un computer pentru prima dată - Romanian.pdf | Download |
| Copy of How to login to Google Classroom using an android device for the first time.pdf | Download |
| Cum să vă conectați la Google Classroom folosind un dispozitiv Android pentru prima dată - Romanian 1.pdf | Download |
| Copy of How to login to Google Classroom using an iphone or ipad for the first time.pdf | Download |
| Cum să vă conectați la Google Classroom folosind un dispozitiv iPhone sau iPad pentru prima dată - Romanian.pdf | Download |
Showing 1-6 of 6